Description
PERFECT's lithium battery-powered industry track custom transfer car, also known as cross flat cart, transfer trolley, electric flat cart, have advantages as simple structure, easy operation and maintenance, large load capacity, and so on, with which these transfer carts are widely used in machine manufacturing and metallurgical factory matching up with lift cranes to transport heavy objects warehouse across. The rail transfer carts are suitable for various industries, steel mill and factory, paper roll plant, painting room, shipbuilding, new factory building project, machine processing line, heavy industry, airport, and so on to transfer or handling material and equipment from one place to another, from warehouse to workshop.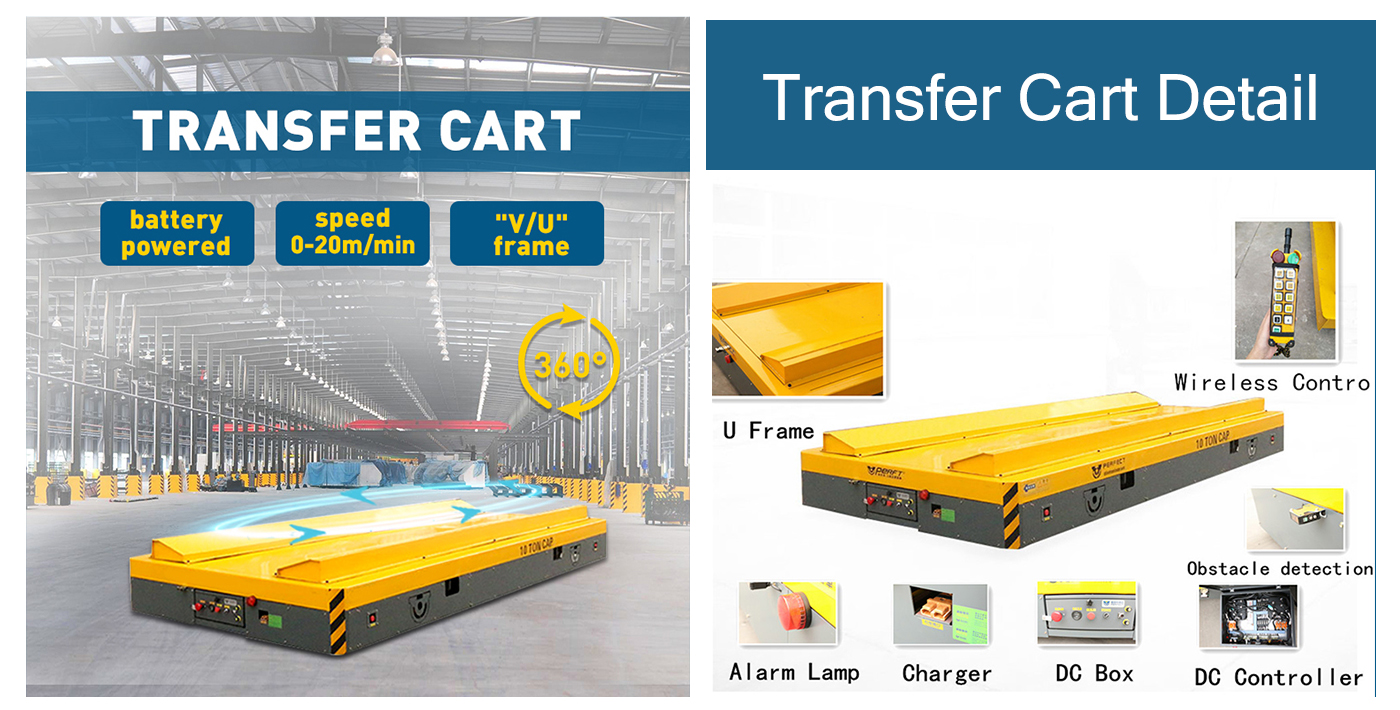 Application:
Uses of lithium battery-powered industry track custom transfer car:
Henan Perfect Handling Equipment Co., Ltd. is one professional designer and manufacturer of a wide range of transfer cars, industrial trailers, die carts, lifting platforms that are used in metallurgy, manufacture, oil, and gas, die shipyards, chemical plant, automotive, mining industry, aerospace, power generation, coal industry, paper mills, metalworking, warehouse, and many others.
The lithium battery-powered industry track custom transfer car is mounted on tracks, so you have to install the rails before using them. They can meet the most important demands: where places are very limited and pathways are extremely constrained.
The lithium battery-powered industry track custom transfer car has been created and built for their utmost extent of working flexibility. Due to they have no predefined pathway and can steer in any direction and can run on any kind of floor the power-driven trolleys are very beneficial to bring the heavy-duty where overhead cranes cannot reach the best method for all those appliances with delicate handling issues in limited space.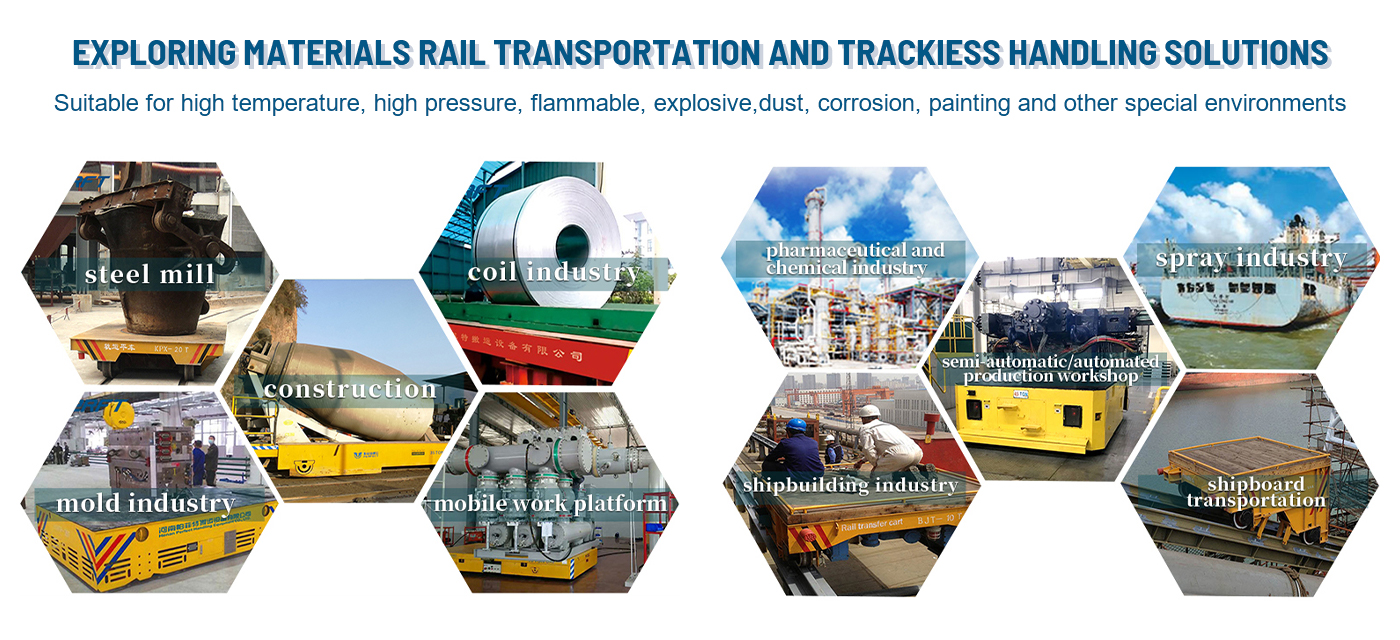 Advantage:
For smaller loads, manual carts can be dedicated to specific work activities such as shuttling materials. This often makes the carts more available for use. Transfer carts are more accommodating for moving long loads through restrictive passageways or doorways. For heavier loads, transfer carts are an excellent affordable choice for their ability to handle heavy loads. Transfer carts are compact in design and work well in areas with limited floor areas. Another advantage over lift trucks is how the cart deck can be customized to suit specific loads.
Model
BXC-2t
BXC-20t
BXC-50t
BXC-100t
BXC-150t
Rated Load(t)
2
20
50
100
150
Table Size (mm)
Length(L)
2000
4000
5500
6500
10000
Width(W)
1500
2200
2500
2800
3000
Height(H)
450
550
650
900
1200
Wheel Base(mm)
1200
2800
4200
4900
7000
Rail Inner Gauge(mm)
1200
1435
1435
200
2000
Wheel Diameter (mm)
270
350
500
600
600
Running Speed (m/min)
0-25
0-20
0-20
0-20
0-18
Motor Power(kW)
1
2.2
5
10
15
Battery Capacity
180
180
330
440
600
Battery Voltage
24
48
48
72
72
Running Time When Full Load
4.32
4
3.3
3.2
2.9
Running Distance for One Charge(km)
6.5
4.8
4
3.8
3.2
Recommended Rail Model
P15
P24
P43
QU100
QU100